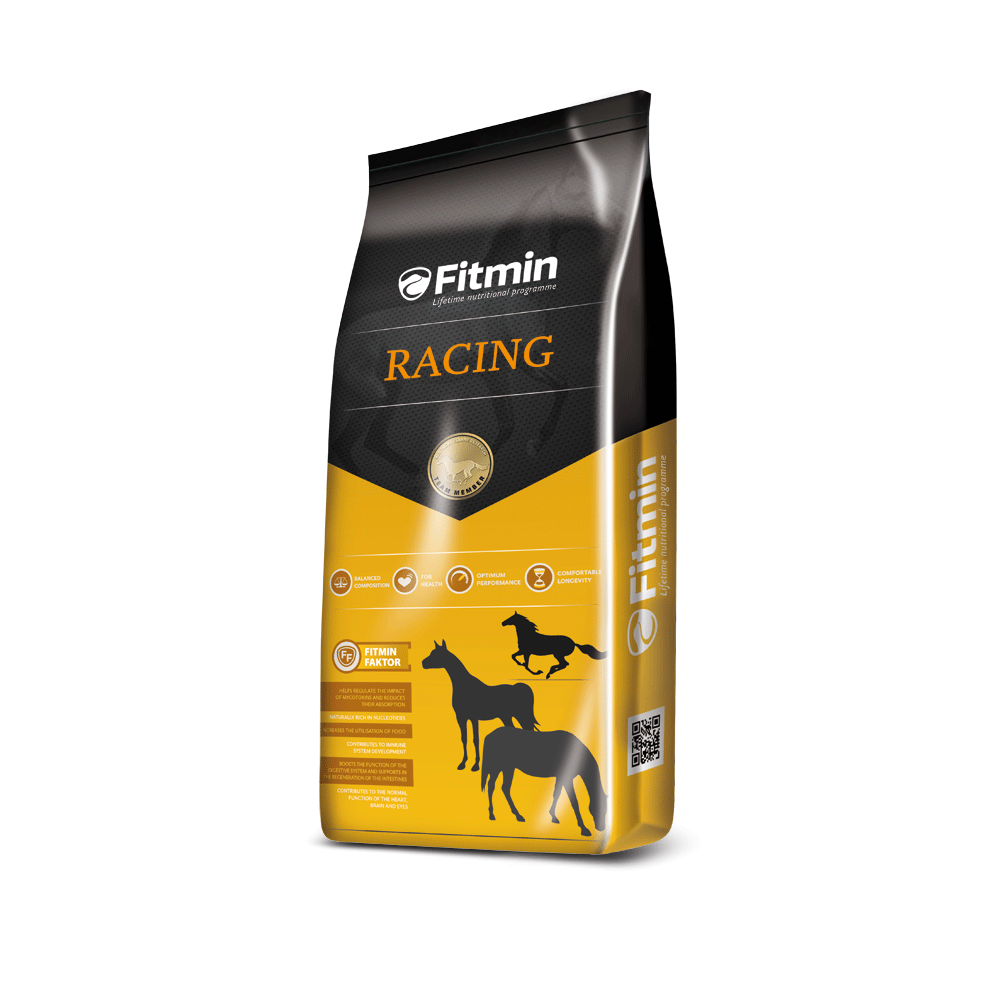 The granular Racing supplementary feed without oats is a high-energy food rich in nutrients intended for horses in racing training. The mixture contains several sources of easily digestible energy for maximum utilisation.
crude protein 10%, crude oils and fats 9%, crude fibre 7.2%, crude ash 5.4%, DE 14 MJ/kg, calcium 0.7%, sodium 0.25%, phosphorus 0.36%.
Benefits
- In combination with meadow hay and the addition of concentrated food, it ensures the complete provision of the nutrients that an adult horse in intensive racing training needs
- Organically bound selenium and vitamin E with antioxidant effects protect cells against free radicals and prevent painful tying-up
- The food is enriched with L-carnitine for maximum utilisation of energy
- Silybum marianum effectively regenerates the function of liver tissue
- Trace elements are organically bound in the form of chelates
- Nucleotides and mannan oligosaccharides help healthy growth and support the immune system
- Live yeast culture promotes digestion and prevents colic diseases
- Yucca extract reduces the concentration of ammonia, is anti-inflammatory and helps with arthritis
- Fitmin Faktor enhances the function of the digestive system, supports intestine regeneration and increases food utilisation
- Enrichment with OMEGA 3 fatty acids (ALA, EPA, DHA) contributes to the normal function of the heart, brain and vision
- The binder of toxins produced by fungi helps to regulate the impact of mycotoxins and reduces their absorption
- Excellent taste and low daily ration
Composition
corn, barley, hot air-dried alfalfa, soybean oil, linseed 2%, milk thistle seed 1%, whey powder, calcium carbonate, glycerine, sodium chloride, lignocellulose, magnesium phosphate, dextrin, inactivated Saccharomyces cerevisiae yeast 9000 mg/kg, dried Schizochytrium limacinum algae 1000 mg/kg, yucca schidigera 500 mg/kg.