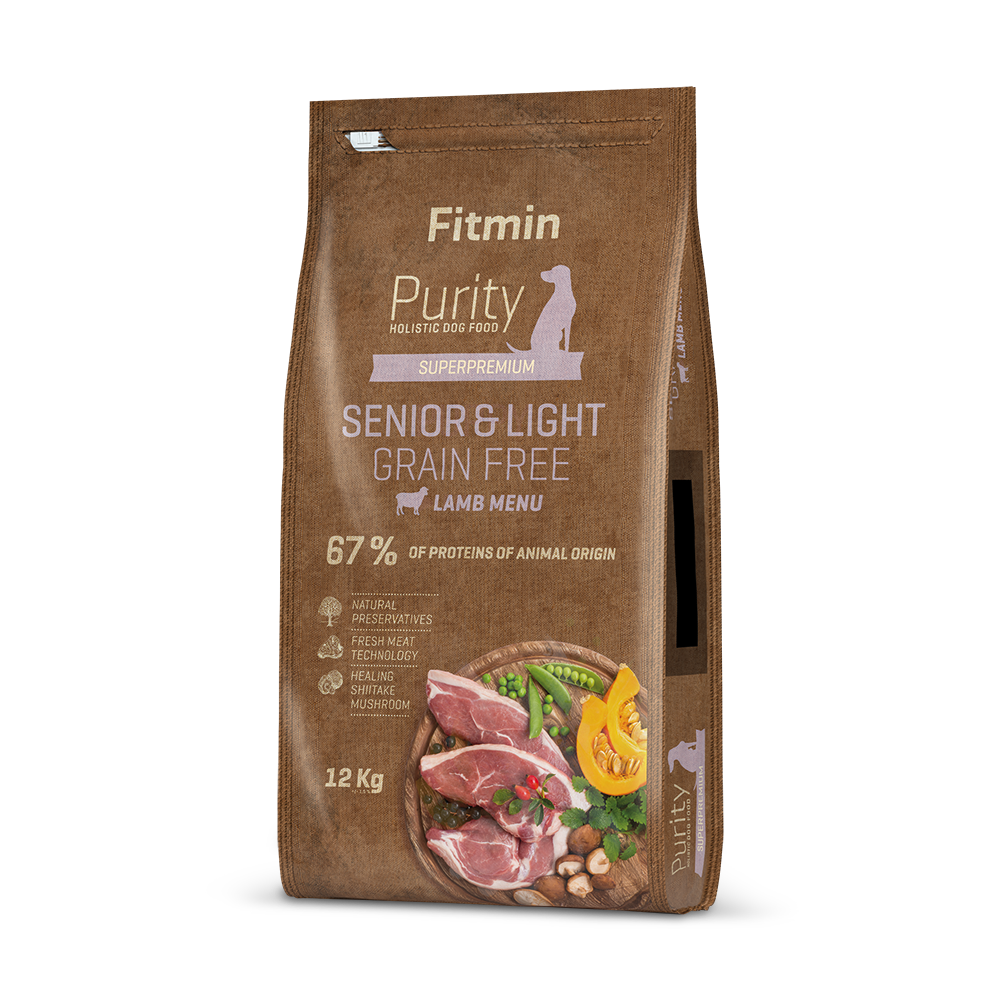 Complete food with reduced energy content, ideal for overweight and senior dogs
Crude protein 23.3%, crude oils and fats 11.4%, crude fibre 4%, crude ash 6.8%, calcium 1.5%, phosphorus 0.9%.
Benefits
67 % PROTEINS OF ANIMAL ORIGIN Full-value food with reduced energy content, suitable for overweight and senior dogs LAMB is an excellent source of B vitamins, which are essential for metabolic reactions in the body (e.g. B12 and thiamine). Lamb meat contains zinc, essential for growth, healing and a healthy immune system. PUMPKIN is rich in antioxidants and vitamins A, C and E. It also contains vitamin K, a variety of minerals such as magnesium, potassium, iron, phosphorus, zinc, calcium and copper. Pumpkin has a great effect on digestion and effectively protects against diarrhea, constipation or other digestive problems. PEAS contain fibre, which has a positive function in digestion. They are also a source of protein and helps prevent the formation of urinary stones. Peas have a much lower glycemic index than the conventional grains. Products with high glycemic index are digested and absorbed more quickly, and this leads to a rapid rise and fall of the glucose levels in blood. In contrast, products with low glycemic index enable a more stable response of glucose in the bloodstream. Products with low glycemic index also help reduce the risk of obesity and diabetes. APPLES are a rich source of trace elements and vitamins, such as vitamin C and beta-carotene, which are among the antioxidants involved in protecting the body from the negative effects of free radicals. Pectins contained mainly in apple skins have a positive effect on digestion. ROSEHIP - as a rich source of vitamin C, has a preventive effect on the healthy functioning of the urinary tract and kidneys, strengthens the immune system. BLACKCURRANT- an ingredient rich in vitamins and minerals. It has a positive effect on slowing down the aging process, strengthens the immune system and has a positive effect on the elasticity of blood vessels. BALM - helps relaxation, release and ensures good digestion. FLAXSEED - is an excellent source of omega-3 fatty acids for good condition of skin and coat. Stimulates the immune system and soothes digestion. MILK THISTLE for its antioxidant properties, promotes the growth of liver cells, has a positive effect on the liver function and protects against toxins.
Composition
Meat (50% fresh lamb meat, 17.5% dried lamb meat, 3% lamb liver), potatoes, peas 15.5%, beet fiber, poultry fat, apples 3%, flax seed, brewer's yeast, cold-pressed Norwegian salmon oil (treated with tocopherols), herbal complex 1% (nettle and lemon balm leaves 0.16%, dandelion leaves, chamomile flowers and linden flowers), alfalfa, pumpkin 0.5%, black currant 0.4%, shiitake mushroom 0.4%, chicory root, spinach, psyllium, milk thistle seeds, glucosamine, chondroitin sulfate, yucca, rose-hip 0.01%, natural antioxidant complex.
Content of Additives in 1 kg:
Trace Elements: iron 162 mg (supplemented with chelate of iron, n-hydrate amino acids and iron sulphate monohydrate), copper 22 mg (supplemented with chelate of copper, n-hydrate amino acids and copper sulphate pentahydrate), manganese 41 mg (supplemented with chelate of manganese, n-hydrate amino acids and manganese oxide), zinc 176 mg (supplemented with chelate of zinc, n-hydrate amino acids and zinc oxide), selenium 0.3 mg (supplemented with an organic form of selenium produced by Saccharomyces cerevisiae CNCM I-3060), iodine 3.6 mg (supplemented with calcium iodide anhydrous),
Vitamins, Pro-Vitamins, and Chemically Defined Substances with Similar Effects: vit. A 17,000 i.u., vit. D3 1,300 i.u., vit. E (RRR-alpha-tocopherol) 300 mg, niacinamide 90 mg, vit. B1 7.3 mg, vit. B2 13 mg, vit. B6 9 mg, vit. B12 170 µg, vit. C 300 mg, calcium pantothenate 30 mg, folic acid 1 mg, biotin 0.5 mg, choline chloride 1,950 mg, L-carnitine 140 mg;
Sensory Additives: rosemary extract 100 mg;
Natural Preservatives, Antioxidants.