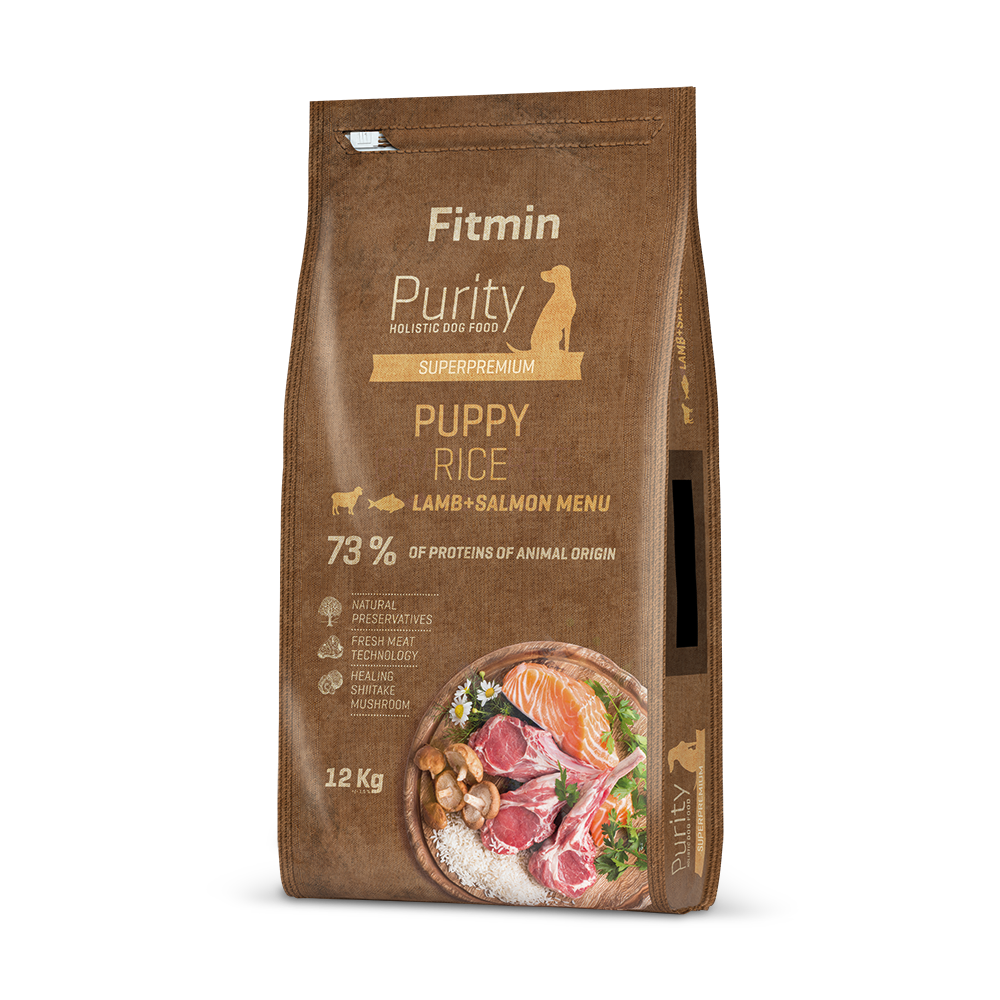 Complete food for puppies and pregnant and lactating female dogs of all breeds
Crude protein 30%, crude oils and fats 19.5%, crude fibre 2.8%, crude ash 7.4%, calcium 1.6%, phosphorus 1.15%.
Benefits
73 % PROTEINS OF ANIMAL ORIGIN Full-value food for puppies and pregnant or lactating females of all breeds LAMB is an excellent source of B vitamins, which are essential for metabolic reactions in the body (e.g. B12 and thiamine). Lamb meat contains zinc, essential for growth, healing and a healthy immune system. FISH is a source of full-value proteins, fat with high biological value, vitamins A and D and B-group minerals - in addition to phosphorous, fluorine and sodium it is especially iodine, which is essential for proper thyroid function. WOLFBERRY (the so-called Goji) - thanks to the content of vitamins and trace elements, has a positive effect on the resistance and immunity of the organism. Strengthens the eyesight, improves blood formation and skin condition. APPLES are a rich source of trace elements and vitamins, such as vitamin C and beta-carotene, which are among the antioxidants involved in protecting the body from the negative effects of free radicals. Pectins contained mainly in apple skins have a positive effect on digestion. PARSLEY - for a very high content of vitamin C and folic acid. Has a positive effect in preventing cancer, supports detoxification of the body and promotes the production of red blood cells. MILK THISTLE for its antioxidant properties, promotes the growth of liver cells, has a positive effect on the liver function and protects against toxins. CAMOMILE - for a positive effect on the digestive and urinary system, anti-inflammatory and antiseptic effects, and alleviating of bloating. As a complex, it has a positive effect on the digestive and urinary system.
Composition
Meat (40% fresh lamb meat, 15% dried lamb meat, 11% dried fish meat, 3% lamb liver, 1.5% fresh salmon meat), rice 23%, poultry fat, wholegrain rice 6%, beet fiber, flax seed, brewer's yeast, potatoes, apples 2.2%, cold-pressed Norwegian salmon oil (treated with tocopherols), alfalfa, inactivated yeast genus Saccharomyces cerevisiae, herbal complex 1% (nettle and lemon balm leaves, dandelion leaves, chamomile flowers 0.16% and linden flowers), hen egg, shiitake mushroom 0.4%, chicory root, milk thistle seeds, parsley 0.05%, goji 0.05%, yucca, natural antioxidant complex.