Whirlwind 2020!
2020 has been a year like we never could imagine, but I still managed to have as much fun as possible on the trails with all the dogs. It has been an opportunity to train harder, grow the bonds with my dogs even stronger and achieve paces I never even dreamt of running!
The year began with a road trip from Germany back to Great Britain to compete in the British Championship race in Wales, Pembrey. Despite day 1 not going to plan, we had a fantastic performance on the 2nd day, giving us 3rd place overall in the British Championship against strong competition. We took much confidence from this and in February we had one of our favourite runs of the year, a new event near Berlin called Capital Cross, around 5km on really lovely technical and twisty trails. Poppy and I ran the best we ever had together on both days, enabling us to finish in 1st place.
In March we were lucky enough to still compete in a mountain race in Austria just before lockdown. We ran the Mountain Man event of 12.5km, +180m and -720m in very snowy conditions in a time of 54:30, enough for 2nd place. After this, unfortunately all the upcoming races were cancelled, but we kept going with our training and stayed motivated thanks to all the virtual races being hosted all over the world! There are too many to mention, but a special memory for me was the first time I ran sub 15minutes with Poppy over 5km during a StrongDog Virtual Race.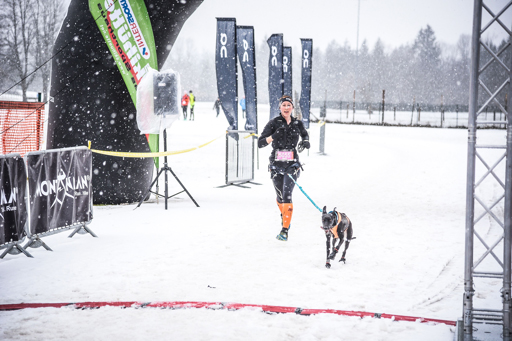 In June we were delighted that a few real-life races could take place, so I spent some time in Czech competing at the Fitmin and Leskros Races, taking 1st Place in both. They are both excellent events, friendly people with a wonderful atmosphere as well. We spent more time in Czech Republic during August for the Dog Epic Race, a 4 day hilly stage race in the beautiful Jizera mountains. The weekend was totally full of ups and downs both physically and emotionally! I was very nervous to start my first real technical mountain trail race with Poppy, so I was really delighted to finish the first 3 stages all in 1st place and even setting new female course records! Unfortunately, the last run was really tough, conditions were warm, and the trail was long (12km with +450m), so we were only able to finish in 9th, bringing our final ranking to 2nd place. However, I also took part in the team event, our name of 'new friends' just sums up the weekend and amazing community in this sport, it was so nice to get to know new friends (and old ones) and watch everyone rock the trails together. This was the first time I properly met my wonderful Fitmin teammate Tilen, thank you for helping us all to achieve 1st place team, what a perfect memory! Poppy and I will never give up on our dreams for this event and already have it in our calendar for 2021.
Towards the end of the summer, once the temperatures were cooler again, we started training more in preparation for the coming season. At the beginning of September I spent 2 weeks in Slovakia so I could run all 3 races of the Fitmin Series there, which was an amazing experience. Poppy was just incredible, and we had so much fun on the varied trails they offered and were able to take 1st place for all the races and therefore win the overall Cup.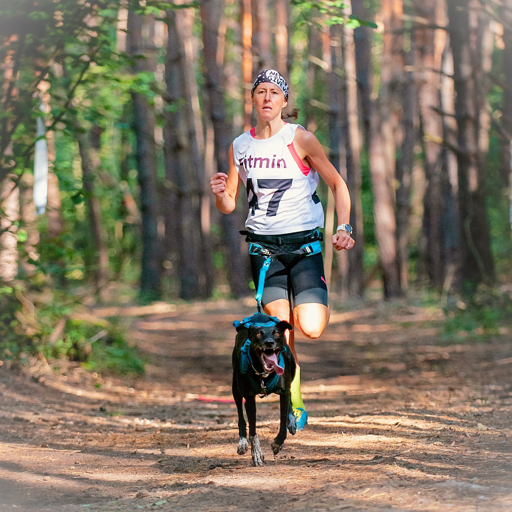 At the end of September was, in the end, the biggest event of the year for us, a 7-day stage race in Germany called Alb Cross Trophy. For this event there was a run every day for 7 days, on all different courses which were fun and hilly trails. You were allowed to switch between 2 dogs, but since my husband Chris and I were both running we just had one each. So, firstly, the biggest achievement was us both completing the full competition with just one dog! And on top of that, we were both able to finish 2nd in our categories, which I am super proud of. For both Poppy and Jess and I truly believe the Fitmin food and supplements were key to their recovery and ability to run so well every single day, thank you!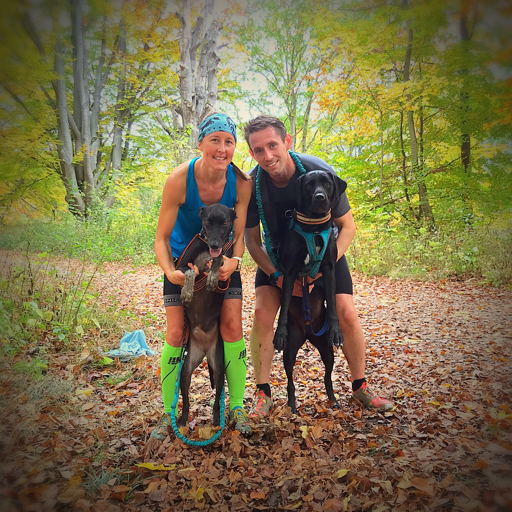 After the long stage race, we took some time off and gave the dogs lots of treats and a break from harness work. By the end of October, we were recharged and ready to race again (which unknown to us at the time), would be the final event for 2020. We took part in the Herkules Race in Germany, a new event in the North with really fantastic and difficult trails. The muddy conditions made it even more challenging, so I was extremely happy to not only stay on my feet, but to run the fastest time on the long course of all competitors (men and women), to crown Poppy with 1st place. It was a fabulous way to end the season, since the coming months would be back to virtual races! Again, I am very grateful for all those that were organised, as the motivation to train and run remained high, enabling me to run my fastest 1km to date of 2:25.
In December after some heavy snowfall and cold conditions, our training switched to on the sled and 'schnee canicross' for a while! Also, Sonic our younger dog is growing up fast and I spend time to train him on focus, command and running very short distances. We are now all ready for a Christmas break and excited with what may come in 2021! We wish you all a very Merry and Healthy Christmas!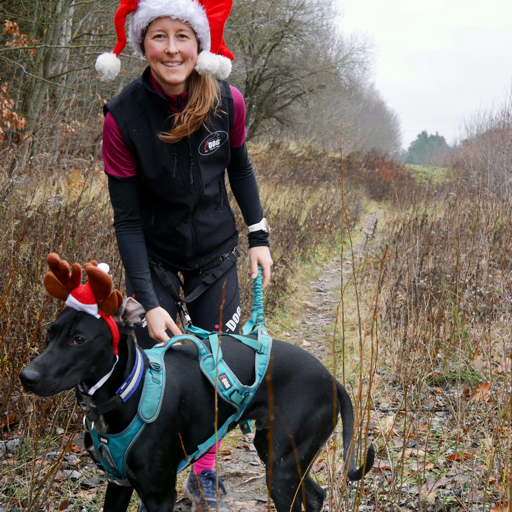 As for 2021, our main goal is to stay healthy, active and continue to have fun on the trails together. Sonic will be 12 months in March so I will work hard to gradually build him up to distance and I am excited to hopefully get race experience for him.
My race season will start with Capital Cross at the end of February, where Poppy and I will try our hardest to retain our title! In March there is a very big competition in Germany called Vulcanicross where we would really love to podium. During the summer months I think we will be back to Czech for Dog Epic and Leskros eaces. But the big goal for the year comes in October, the ICF World Championsips in France, then also if we are lucky enough to qualify, the IFSS World Championsips in Canada… please wish us luck!